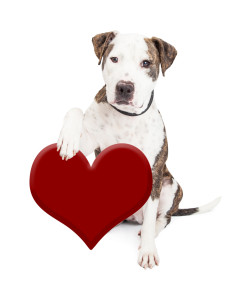 WELCOME ADVOCATES! Our 7th Annual Have a Heart Campaign is underway!
Have a Heart is a global, all ages campaign taking place during the month of February. We are pleased to announce that Bill 147 has been introduced and Ontario is now moving toward repeal of Breed Specific Legislation. However, the Bill must proceed through a number of hurdles before becoming law. Our message to the Premier is clear:  SUPPORT BILL 147!  You can send a Valentine Card to the Premier of Ontario and/or your MPP anytime during the month of February.  A few moments of your time and the cost of a stamp will go a long way in helping to bring Breed-Specific Legislation closer to repeal in Ontario.  It's as easy as 1, 2, 3:
1.    Download and print one or both of the Have a Heart Cards 2021 asking Premier Doug Ford and all MPPs to "Have a Heart" and support Bill 147.
2.    Fold the Valentine Card and fill in your name and address. Once folded, the card will fit into an invitation size envelope (4 3/8 in x 5 3/4 in). If you are mailing multiple cards they may be sent in a bulk envelope to save on postage;
3.     Mail your Valentine Card to Premier Doug Ford at:
Doug Ford, Premier
Legislative Building
Queen's Park
Toronto ON M7A 1A1
Canada
OR to your MPP (find out who your MPP is here).
PLEASE NOTE THAT POSTAGE IS REQUIRED!
Watch and share our Have a Heart PSA
No matter where you are on the planet, we need your support. We encourage you to share this campaign with other advocates throughout Canada and elsewhere, as well as family and friends. Consider printing extra copies for those supporters who may not be on social media. Let's make Have a Heart 2021 a success and the last campaign we will ever have to do! Help us bring Breed-Specific Legislation to an end in Ontario. We're counting on you.