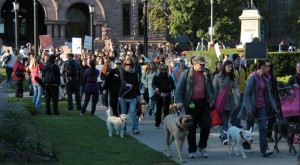 THIS ACTION ALERT HAS EXPIRED.
PLEASE take the time to go to this website & let the Ontario government know that Breed Specific Legislation MUST be suspended immediately & repealed as soon as possible. They are asking what is important to tax payers … BSL costs Ontario taxpayers millions of dollars! Millions to enforce an ineffective, archaic law. Please be their voice & make yours heard. The survey takes 15 minutes to complete. The closing date is September 21, 2018.
THIS ACTION ALERT HAS EXPIRED.
Want to End BSL in Ontario? CAST YOUR VOTE for Next Leader of the Ontario PC Party.
The Next Leader of the PC party of #Ontario could be the next Premier of Ontario.
The race for the next leader of the Ontario Progressive Conservative leadership is on….who wins matters.
Do YOU know where the candidate of your choice for PC leader stands on the issue of BSL?
Do YOU want to be treated equally under Ontario law again?
Do YOU fear your family pet or your friend's pet will be seized based on appearance?
MAKE your voice heard; the time to act is before February 28th, 2015.
Contact your choice for the PC leadership!
Ask where they stand on breed discriminatory laws. As a responsible citizen and advocate against BSL,YOU NEED TO KNOW their stance.
GENERAL INFORMATION:
The deadline for leadership candidates is January 30th, 2015.
In order to vote for the leadership candidate YOU must be a PC party member no later than February 28th, 2015.  Fee $10.00
On February 11th, 2015 there will be a all candidates debate in Ottawa.
On April 15th, 2015 there will be a all candidates debate in Toronto.
Voting for the next leader occurs in ALL 107 riding's on May 3 and May 7th, 2015.
PC members can vote their Number #1 pick for leader. They will also have the option to select #2nd or #3rd choices for party leader if desired.
To ask questions, have your voice heard or inquire about your membership status; find your local riding association by clicking on the following link. https://www.ontariopc.com/OurTeam/President
The leadership convention will be held May 9th, 2015 at the Toronto Congress Centre.
There are two candidates remaining in the leadership race:
Patrick Brown MPP Barrie
Constituency Office
299 Lakeshore Dr, Suite 200
Barrie, ON L4N 7Y9
T 705-726-5959
F 705-726-3340
E barrie@servingbarrie.com
http://www.servingbarrie.com/
Hill Office
House of Commons Ottawa,
OntarioCanadaK1A 0A6
Telephone: 613-992-3394
Fax: 613-996-7923
Mail may be sent postage-free to any Member of Parliament.
AND
Christine Elliott MPP Whitby-OshawaQueen's Park Office
Room 436, Main Legislative Buidling
Toronto ON M7A 1A8
Tel : 416-325-1331
Fax : 416-325-1423
Constituency Office
101 – 114 Dundas St E
Whitby ON L1N 2H7
Tel : 905-430-1141
Fax : 905-430-1840
Email: christine.elliottco@pc.ola.org
http://christineelliottmpp.com/
Please review the votes on Bill 16;  Who was for BSL? Who was against BSL?  Who didn't vote?
 http://www.chicobandido.com/2012/02/vote0223/
Northern PC Leadership Debate. http://www.ustream.tv/channel/ontario-pc—pctv?utm_campaign=t.co&utm_source=ustre.am%2F13iF&utm_medium=social&utm_content=20141129234546
THIS ACTION ALERT HAS EXPIRED.
ONTARIO ELECTION CALLED – VOTE OUT THE LIBERALS! An Ontario Provincial Election has now been called for Thursday, June 12, 2014. Your vote counts! It is important to be involved in the political process that will see an end to Breed Specific Legislation (BSL) in Ontario.  Call, write or email the candidates in your riding and ask them to state their position on BSL.  We recommend you support the candidate in your riding that has the best possible chance of winning against the Liberal candidate.  Help other advocates get the message out. Volunteer your time to opposing candidates in ridings where the Liberals currently hold a seat. Print, distribute, post and share our 2014 Election Poster. Contact us for handouts to distribute in your community to help others make an informed decision.  Only with your help can we restore fair and equal treatment for ALL responsible dog owners across Ontario. End the genocide of Ontario's dogs.  Here's a list of all candidates running.  You can also visit the Elections Ontario site to find answers to your questions about voting.  See riding profiles and political history of each riding here.  Current MPP and new candidate responses to the question of repeal can be found here.
THIS ACTION ALERT HAS EXPIRED.
Have YOU READ the statement by the Ontario Liberal Party on Phase 2 of their "Common Ground" website Re: Removing Ontario's Breed Ban?
WHEN will the profiling and targeting of Ontario dog owners prepetuated by the governing Liberal Party end?
Many of the 20 ideas and their issues from the Common Ground website were written similarly to what the original Idea authors wrote. However, NONE of the original and factual text with respect to "End Ontario's Breed Bans and Remove Breed Specific Language" was used. Instead, the text was deleted and replaced with erroneous statements by the Liberal Party.
The original Idea author wrote: "Thousands of innocent family dogs have been victimized. Thousands of responsible owners have been & are unjustly & unfairly profiled! Ontarians want fair & effective legislation that improves public safety and reduces dog bites, not a ban pushed forward against all evidence and professional recommendations. Institute breed NEUTRAL laws that will remove the focus on a dogs appearance & make "reckless" dog owners accountable; NO exceptions and NO excuses. The public should be safe from ALL dangerous dogs no matter the size "type" or "breed". End breed discriminatory legislation."
The Liberal party member deleted the above text and wrote: "This would benefit a very narrow community of interest. Mainstream animal organizations (Humane Societies, OSPCA, etc) have spoken out against the ban but do not devote significant resources or political capital to this issue. Pit bull owners support this issue. Some individuals are very passionate about this issue. Although there would be no monetary and fiscal cost to government. New Brunswick also has breed-specific legislation."
We ask: Does the Liberal Party author mention ONE pertinent issue regarding BSL? The answer is NO.
We ask: Was information given in the Liberal author's introduction true or false? The answer is FALSE.
We ask: What has BSL cost Ontario taxpayers? Answer is UNKNOWN.
First, people want safe and humane communities thus breed neutral legislation would benefit and protect all Ontario citizens. Fair and just legislation would not target Ontario dog owners based on the look of a dog, but instead focus on reckless owners and aggressive dogs of all types and breeds.
Second, mainstream animal organizations have spoken out against breed bans, many times over, and have devoted a respectful amount of time, effort and resources against Ontario's breed ban. Yes, they could get more interactive and vocal, but indeed have made their views known to the Ontario Liberal Party. The OSPCA is largely a provincially funded organization and would be prohibited from speaking out publicly or using government resources. Many other animal organizations who are vehemently opposed to BSL are restricted from becoming politically involved or speaking out publicly for risk of losing their charitable status.
Third, dog owners and non-dog owners alike support and endorse the removal of Breed Specific Legislation. To make a statement that only "pit bull" owners support the issue is derogatory and shows bias. It is a statement that profiles and targets a vast amount of Ontario citizens in a negative way. Thousands upon thousands of Ontarians have signed petitions to remove BSL. The vast majority of signatures are owners of many different types/breeds of dogs or do not own a dog at all.
Fourth, there is NO province-wide breed specific legislation in New Brunswick. This is a deliberate attempt by the Liberal Party to continue to misinform the public in order to justify their refusal to repeal BSL. Ontario has the only province-wide BSL in Canada.
Lastly, many requests have been made to the Liberal government asking that they provide the public with the true cost of Ontario's Breed Specific Legislation. It is eight years later and answers have yet to be forthcoming from any Ministry or government office. How many court cases have there been throughout Ontario or, are still to occur as Ontarians try to save non-offending family dogs from a death sentence? Indeed there has been, is and will be monetary and fiscal costs to taxpayers as well as to responsible dog owners who challenge the legislation. Now in Ontario one has to PROVE innocence.
Please take the time to contact "Common Ground" at policy@ontarioliberal.ca and ask them to retract their biased statement. Ask them why you must be a member of the Liberal Party in order to participate in Phase 2 of Common Ground. Ask them why they are not interested in hearing from all Ontarians, but only those who pledge allegiance to the Ontario Liberal Party. Ontarians want fair, humane and effective legislation that does not target Ontario's responsible dog owners or their non-offending family dogs.
01/31/14