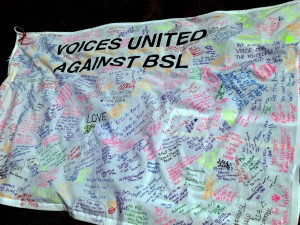 Tweet View Archive of Past Action Alerts
URGENT ACTION ALERT
Ontario residents! A supportive member of our current provincial government put together THIS website which makes sending a pre-written letter to your MPP to repeal the breed specific language in the Dog Owners Liability Act a very simple task.  Sending out this letter now will really assist getting Bill 147 to third and final reading in the next Queens Park session.
  The letter is written for you and  finding your MPP is as simple as inserting your postal code! The email will be sent out right from the end the ban website.  Plug in your name and address and YOUR provincial MPP will get your letter of support! It's THAT easy!
Contact your Ontario MPP right now! IMPORTANT FACT! The emails are documented as per the MPP's riding and will ultimately show support to repeal BSL in each and every riding throughout Ontario.
For those visiting us outside of Ontario or Canada you can also go to the EndTheBan website and sign the petition of support. The website is open to everyone in and outside of Ontario – it just won't be documented through a MPP's riding.
Below is a list of MPPs who voted for and against Bill 147 ,which passed second reading November 21, 2019.
It is crucial we continue to contact  our elected officials on a regular basis to support Bill 147 through to 3rd reading and Royal Assent. Don't forget to thank your MPP if they supported Bill 147. However, it is crucial to educate MPP's who believe there is nothing wrong in targeting thousands of responsible dog owners and discriminating against non offending family pets based simply on appearance. Please ACT NOW to end BSL.  Hit the "END THE BAN" link and make your voice heard.
AYES / POUR – 36
Armstrong

Babikian

Begum

Berns-McGown

Calandra

Coe

Downey

Gill

Glover

Hassan

Hogarth

Jones

Kanapathi

Karahalios

Karpoche

Martin

McNaughton

Miller (Parry Sound—Muskoka)

Mitas

Nicholls

Oosterhoff

Park

Piccini

Rickford

Roberts

Sandhu

Sarkaria

Sattler

Simard

Singh (Brampton Centre)

Stiles

Tabuns

Vanthof

Wai

West

Yarde

NAYS / CONTRE – 12
Baber

Crawford

Cuzzeto

Elliott

Lecce

MacLeod

Pang

Phillips

Romano

Surma

Tibollo

Triantafilopoulos