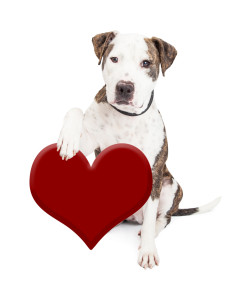 CAMPAIGN EXTENDED TO MARCH 10, 2016
WELCOME ADVOCATES! Our 2nd Annual Have a Heart Campaign is underway.
Have a Heart is a global, all ages campaign and we are inviting you to participate.  Our message to the Premier is clear: REPEAL BREED-SPECIFIC LEGISLATION IN ONTARIO! You can send a Valentine Card to the Premier of Ontario anytime during the month of February.  A few moments of your time and the cost of a stamp will go a long way in helping to bring Breed-Specific Legislation closer to repeal in Ontario.  It's as easy as 1, 2, 3:
1.    Download and print a Valentine Card (choose Valentine Card style one, two or three) requesting Premier Kathleen Wynne open a dialogue to restore fair and equal treatment for all Ontario dog owners;
2.    Fold the Valentine Card as appropriate and sign the inside where designated. Please print your name under your signature. If you wish a response from the Premier, you may write your address on the back of the card. Once folded, the card will fit nicely into an invitation size envelope (4 3/8 in x 5 3/4 in). If you are mailing multiple cards they may be sent in a bulk envelope to save on postage;
3.     Mail the Valentine Card to Premier Kathleen Wynne at:
Kathleen Wynne, Premier
Legislative Building
Queen's Park
Toronto ON M7A 1A1
Canada
We encourage you to share this campaign with other advocates world-wide, as well as family and friends. Consider printing extra copies for those supporters who may not be on social media. Let's make this year's Have a Heart Campaign a success. Help us bring Breed-Specific Legislation closer to repeal in Ontario. We're counting on you.
This campaign is sponsored by Hershey Anti-BSL Group, Changing Laws for Paws Advocacy, Inc. and Fido's Freedom Fighters.  Members of these groups and others will also be bringing the Have a Heart Campaign to the streets of the Greater Toronto Area.  As always, donations are greatly appreciated and will go a long way to reducing the postage costs associated with this campaign. Thank you from the bottom of our hearts.