Tweet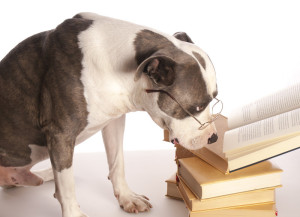 Leading Resources on Breed Specific Legislation
The effect of breed-specific dog legislation on hospital treated dog bites in Odense, Denmark—A time series intervention study – December 26, 2018
Who is minding the bibliography? Daisy chaining, dropped leads, and other bad behavior using examples from the dog bite literature – Journal of Veterinary Behaviour, July-August 2016
Animal control measures and their relationship to the reported incidence of dog bites in urban Canadian municipalities – The Canadian Veterinary Journal, Feb. 2013
Dog bite injuries to humans and the use of breed-specific legislation: A comparison of bites from legislated and non-legislated dog breeds
Human hospitalisations due to dog bites in Ireland, 1998-2013: Implications for current breed specific legislation
Position Statement on Breed Specific Legislation, American Veterinary Society of Animal Behavior www.AVSABonline.org
Dog Bites : Problems and Solutions (Revised July 2014) by the Animals & Society Institute
Fatal dog attacks – Canada -1962-2018
National Canine Research Council – Summary Report of Dog Bite Related Fatalities (US) – 2000-2012 – April 2014
Fatal dog attacks in Canada, 1990-2007 by Malathi Raghaven
The Canadian Veterinary Journal 2008 June; 49(6):577-581
Panic Policy Making: Canine breed bans in Canada and the U.S. (2007) 
Attacking the dog-bite epidemic: Why Breed Specific Legislation won't solve the dangerous dog dilemma – April 2006
Breed Specific Legislation: Considerations for evaluating its effectiveness and recommendations for alternatives – Canadian Veterinarians, August 2005
Reducing the Incidence of Dog Bites and Attacks: Do Breed Bans Work?
This document reflects expertise from the Canadian Federation of Humane Societies, the Canadian Veterinary Medical Association, the Canadian Kennel Club and the Pet Industry Joint Advisory Council of Canada. They are members of the National Companion Animal Coalition (NCAC), which was created in 1996 to promote responsible pet ownership and enhance the health and well being of companion animals.
Is Breed Specific Legislation the answer to preventing dog attacks – March 2004
Purpose of the Report:  The purpose of the report is to determine whether breed specific bans are an effective means of preventing dog attacks. This report examined statistics and reviewed expert opinion on the causes of canine aggression and bite prevention, and finally, considered the options a community has for implementing dangerous dog laws.
Conclusions: Breed-specific legislation is based on the premise that certain breeds are inherently dangerous and that public safety can be accomplished by banning or restricting only those dogs. Unfortunately, this does not deal with the underlying problem – irresponsible ownership. Non-breed specific dangerous dog laws are based on the premise that any dog can bite and that a dog of any breed can be treated in a way that would encourage aggression. Non-breed specific legislation focuses on the quality of ownership, placing the responsibility for the dog's actions squarely on the owner of the dog.
Will Breed Specific Legislation reduce dog bites? – The Canadian Veterinary Journal, August 1996
---
More Resources on Breed Specific Legislation
Ontario Advocates Response to BSL. Why Real Public Safety Must Come Before Lazy and False Politics. "I'm just a Dog" – A Look at the Reality of Breed Specific Legislation By Alix Packard Founder of Ottawa Citizens Against Breed Specific Legislation/BSL
Support Hershey's Bill Brochure (January 2018)
Repealing Breed-Specific Legislation – Moving beyond breed to save dogs and strengthen communities (Humane Society International – Canada)
The Problem of Dog-Related Incidents and Encounters (US Department of Justice, August 2011)
American Bar Association –  Resolution on Repealing BSL, 2012
ASPCA Position Statement on Breed-Specific Legislation
Committee Documents: Standing Committee on the Legislative Assembly – 2005-Jan-24 – Bill 132, Public Safety Related to Dogs Statute Law Amendment Act, 2005
BILL 132 – Public Hearing Summary
This is a concise summary of the public hearings as to who was for and who was against the ban.
Why breed specific legislation does not protect public from dangerous dogs
Research conducted by animal behaviour experts challenges the basis of breed specific legislation designed to protect the public from 'dangerous' dogs.
Animal Farm Foundation BSL e-Book – August 2013
Dog breed genetic tests put to the test by Edie Lau
July 10, 2012 The VIN News Service
Ontario Veterinary Medical Association – Letter to Premier McGuinty, Mr. Hudak and Ms. Horwath (May 28, 2012)
The Legal Senselessness of Doggie Racism, Public Law Advocacy, September 9, 2014
Safety & Awareness around your dog – Educational Project for school age children (2014)
School Presentation Awareness for children covering some points in how to teach children to be safe around dogs, while helping them to empathize and understand how a dog is feeling. Recommended for children aged 4 to 14 years of age.
Dogs Are Family Too – Sheldon & Friends – Tips from the Booklet
Dangerous Legislation that takes a Bite out of being Canadian by Selma Mulvey (Cottage Dog Magazine, Fall – December 2011)
Will the Lennox tragedy impact Breed Specific Legislation in your community? – DogHeirs, June 15, 2010
Battling Breed Specific Bans – American Dog Magazine, 2009
Is there a difference? Comparison of Golden Retrievers & dogs affected by BSL regarding aggressive behaviour – University of Veterinary Medicine, Hanover, Germany (2008)
Fiscal Bite & Breed Discrimination
Utilizing Scientific Advances & Economic Tools in Lobbying By Ledy VanKavage and John Dunham
Topics
Breed-Discriminatory Law and the Science of Genetics
Temperament Testing
Fiscal Bite: The High Cost of Breed Discrimination
Effective Legislative Alternatives to Panic Policymaking
Canine Profiling in Operation: No Record of Success
A Problem-Oriented Policing Approach 
Statement from Canadian Association of Professional Pet Dog Trainers – June 29, 2005
Can you pick out the "pit bull"?
World Vet Association Policy on Dangerous Dogs
Chapter 16 – (T-3.7) page 1 Animal Health and Animal Welfare (01.12.02)
T-3.7 Policy on Dangerous Dogs Policy
The World Veterinary Association recommends education of the community in responsible dog ownership as the most effective means of minimizing problems associated with
unwanted aggressive behavior of dogs.
A Community Approach to Dog Bites – 1732 Vet Med Today: Canine Aggression Task Force JAVMA, Vol 218, No. 11, June 1, 2001
Miscellaneous
Quebec Coroner's Investigation Report on the death of Christiane Vadnais – 2016
Province of Ontario – Breed Specific and All Breed Rescue Contacts 2018