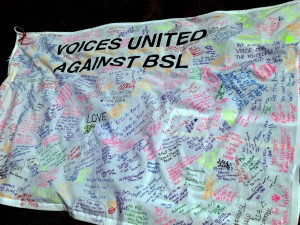 Tweet
View Archive of Past Action Alerts
ACTION ALERT #1
On October 6, 2016, Bill 40 was introduced into the Ontario Legislature.  This private member's bill, has been brought forward by MPP Cheri DiNovo.  The Bill repeals provisions in the Animals for Research Act relating to the disposition of pit bulls under that Act. The Bill also repeals provisions in the Dog Owners' Liability Act that prohibit restricted pit bulls and provide for controls on pit bulls. Bill 40 has passed first reading.
Here's what you can do:
 CONTACT PREMIER KATHLEEN WYNNE and let her know that you support Bill 40 and the repeal of Breed-Specific Legislation in Ontario;
CONTACT YOUR LOCAL MPP and ask where they stand on Bill 40.
ACTION ALERT #2
The Province of Quebec needs our help. Montreal City council voted Tuesday, September 27, 2016 in favour of changes to its animal control bylaw that includes a ban on new ownership of "pit bull" and "pit bull-type" dogs. The final vote was 37-23 in favour of the ban. On April 13, 2017, the Province of Quebec tabled Bill 128, a province-wide ban on "pit bulls" and Rottweilers.  This will literally divide our country in half. Responsible dog owners from other parts of Canada and elsewhere will be prohibited from travelling within or through Quebec (as Ontario) without putting their dogs as risk of being seized and killed. Responsible dog owners within Quebec are already feeling prejudice and hatred towards themselves and their non-offending family dogs. The Quebec government has now given media and their citizens the right to vilify those who choose to own a certain "type" of dog. Shelters and animal rescue groups will be forced to euthanize dogs fitting the subjective description outlined in this draconian legislation. To date, a few lucky dogs have been able to leave the province but this is not a solution! Whether you own a dog or not, or whether you own a targeted dog or not, we must work together to preserve the rights and freedoms of all Canadians. Here's what you can do:
The Montreal SPCA has now filed  legal action against the City of Montreal. Support the Montreal SPCA in their efforts to suspend the application of the bylaw here.
Sign the Montreal SPCA petition;
Send a message to the Premier of Quebec, Philippe Couillard;
Send a message to Montreal city officials and the Mayor of Montreal, Denis Coderre.